TARIFF
Room Type
Single
Double
Sp. Single Room
300
Standard Non A/C
400
500
Standard A/C
500
700
Deluxe A/C
600
800
Executive Suite A/C
1400
1700
Royal Suite A/C
1600
1900

Tax as per rules
Like the moon in the sky Hotel Moon Palace is having its unique identity in the city because of its services, customer friendly polite staff, and enough facilities to satisfy the guests. Staff is trained to welcome customers as valued guests and treat them in the same manner up to leaving the city with sweet memories and desire to visit agian and again.
Located in the heart of the city - Major Business centers, Railway, Bus Services are at a walking distance of 3-5 minutes.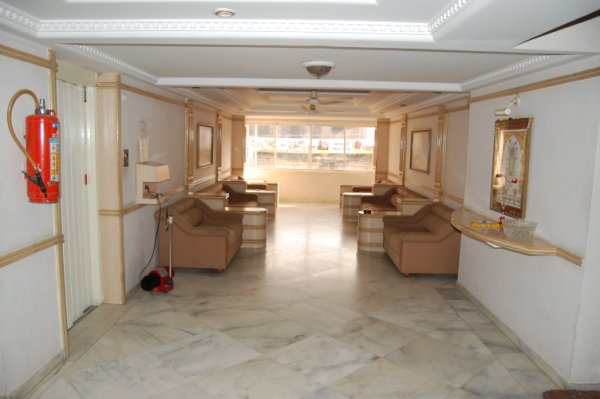 Reception Lounge
For further inquiries/booking contact :
Hotel Moon Palace
M. G. Road, Porbandar - 360 575. (Gujarat) INDIA.
Phone : 0091 286 2241172, 2246823, 2243154
Fax : 0091 286 2243248
E-mail : hmppbr@gmail.com

HOME | HISTORY | PLACES TO SEE | HOTELS | BUSENESS & INDUSTRIES | ARTS & SCULPTURE | NEWS | HOSPITALS | TRAVEL INFO | COMPANY PROFILE | WRITE TO US

Information & photographs on pages of business & industries has been provided by respective companies themselves. Developers & owners of this site are not in any way responsible for quality of the product or services at any of the company. Companies may change any of the details provided for the site. Interested visitors are advised to confirm their queries from related vendor directly.
Photographs of various places located in the city, were provided by well known artists & photographers.
The aim of this website : A city guide that can help tourists, Gujarati people abroad, Especially people from Porbandar located in various regions of the world.

DESIGNED HOSTED AND MAINTAINED BY : ONLINE COMPUTER SERVICES
All rights reserved. - porbandarONLINE.com - Since 1998